Trafficking
North San Diego County Human Trafficking Collaborative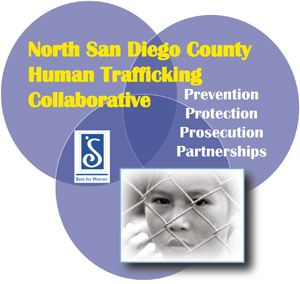 Our NEXT  HT Collaborative Meeting is:
Thursday, Jan. 3, 2013, 8:30 a.m. to 10 a.m. United Methodist Church 490 S. Melrose Drive, Vista, CA (lower level of church) All are welcome!
Guest speaker tbd.
Soroptimist International of Vista is a member of the North San Diego County Human Trafficking Collaborative, a diverse group of individuals and community organizations committed to eliminate human trafficking and modern day slavery.
Our mission is to raise awareness of human trafficking, provide a platform to share information, improve victim services, educate ourselves and the public, and advocate for policy and legislation related to human trafficking.
Organizations attending and affiliates include:
Advisory Council, County of San Diego
Amnesty International of Vista #471
Bilateral Safety Corridor Coalition (BSCC)
CLA
California Against Slavery (DAS)
Carlsbad Unified School District
Center For Community Solutions (Escondido)
City of Vista
Generate Hope (Shelter for adult women victims of commercial sexual exploitation)
Health and Human Services Agency, County of San Diego
Hope House (Shelter for adult women victims of commercial sexual exploitation)
International University of Professional Study (IPS)
North County Life Line
Million Kids
Multiple Faith Based Communities:
Community of Christ
United Church of Christ
North Coast Church, Carlsbad
United Methodist Church San Dieguito
United Methodist Church of San Luis Ray
United Methodist Church of Vista
Palomar College
Rescue and Restore Campaign
San Diego Office of Education
San Marcos Unified School District
Stand Up For Kids (Oceanside)
Soroptimist International Clubs of Carlsbad/Oceanside: Poway: Rancho Bernardo: Vista
T.A.L.K. (Breaking the silence that surrounds child sexual abuse)
Unitarian Universalist Refugee and Immigrant Services and Education, Inc. (UURISE)
Vista Community Clinic
Vista Unified School District
Vista Village Business Association
Vista Zen Center
If you are interested in more information, please e-mail stoptrafficking@soroptimistvista.org.